How did you enter the extracellular vesicle (EV) research field?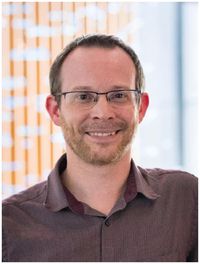 Carter: Back in 2010 I was collaborating on a project investigating stress response. Cells exposed to ionizing radiation secrete a factor that can induce DNA damage in non-irradiated cells. Our aim was to identify the secreted factor that induces this 'bystander effect'. I went to a conference in Oxford and saw a talk about EVs from Matthew Wood's lab (ironically, he was a cofounder of the company I now work for!), and realised that EVs could be the factor we were seeking (and so it turned out to be!). The more I learnt about EVs, the more hooked I became, and I've been working on them ever since!
When you speak at scientific symposia, you always say that EVs are cool (so says your favourite mug). What makes them so interesting?
Carter: It's a combination of things. The concept that cells from bacteria to humans can use them to support many biological functions, is cool. The fact that we still have so much to learn about how they work, gives us all the opportunity to play a role in discovering new biology and push back the frontiers; as a scientist I don't know what's cooler than that? The potential to harness them for diagnostic and therapeutic applications, is the super cool endpoint of this increased understanding. They really are cool.

You have moved from academia to industry at a relatively late stage. Why did you take this decision and what is your experience so far?
Carter: It was a difficult decision to leave academia for biotech, but the chance to try out something new was too good to resist. I wanted to have an opportunity to directly impact the lives of patients, by being involved in the development of transformative therapeutics. I also wanted to challenge myself, to learn an entirely new way of working in cross-disciplinary teams. My experiences at Evox so far have been really positive. The pace of work is fast! This brings its own challenges, but it's really exciting to see such rapid progress. The people at Evox are outstanding and I'm learning so much. not just about drug development, but also about EVs. I do miss some aspects of academia, but I'm loving the journey!
What do you recommend young researchers that enter the scientific world in general and in the EV field?
Carter: Science is beautiful, and I'd encourage anyone entering the field to really throw themselves into it, enjoy the highs, push through the lows, seek good mentors, and keep looking for the niche that suits them best, whether it's a particular field of science, or a particular setting (academia, biotech, big pharma, medical writing, intellectual property, etc.; there are so many exciting roles that need to be filled!). For those getting into EVs: don't be afraid to reach out to others in the field for advice; I've worked in several fields (including chromatin and non-coding RNAs) before I moved into EVs, and this community is by far the most inclusive, welcoming, and helpful than I've ever known before.
What do you enjoy outside of your scientific work and how much time do you have for these activities?
Carter: My work is my hobby, so I tend to fill most of my time with it! Spending time with my wife and kids keeps me grounded. I used to be quite handy at table football, but I don't really play anymore. I like to keep fit by jogging (when my legs aren't injured). I enjoy watching most sports (football, cricket, NFL, darts, etc); I used to play some of them too, though I'm too old for that now, so I've taken up playing the occasional game of poker instead. I'm looking forward to retiring: I intend to take up golf!
What makes you laugh?
Carter: I try to find the laughs wherever I can; life's too short not to.
Which recommendable book have you read recently?
Carter: Hidden Figures: you should watch it.
Do you have a personal motto?
Carter: Work hard, have fun, and it'll all turn out OK.